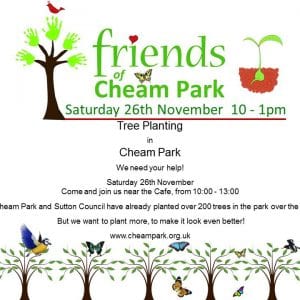 The Friends of Cheam Park, are planning to plant more Trees on Cheam Rec. This is to not only enhance the Rec, but also create a more wildlife friendly area and as the trees grown, will reduce the amount of water run off from Cheam Rec.
We have 40, 5 year old trees, which stand at around 1.5 – 2 meters high and over 100 saplings, which will only need to be dug in with a trowel.
The Friends of Cheam Park, with the help of local residents have now planted over 200 trees on the Rec. They have made a real difference the area. They make what was a very boring part of the Rec, with just mown grass, a real feature, which people take pleasure in visiting.
We are also hoping to secure funding for a footpath to go across the Rec, connecting the pavilion with the path down into Nonsuch Woods. All of which will make the Rec more accessible. It will also make it easier for families to walk to Little Oaks from North Cheam, rather than have to drive.
It will be on Saturday 26th November at 10 – 1pm.