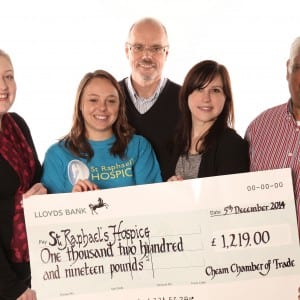 The Committee of the Cheam Chamber of Trade proudly handed over £1,349 to Emily Nicholls of St Raphael's Hospice Fundraising Team.
– Pictured with Emily are some members of the organising Committee Jennie Watson (Village Travel), Tom Goodliffe (Cheam Sports), Leanne Officer (The Closet) and Alex Rocha (The IT Partnership).
– These were the proceeds from the raffle (drawn by Paul Burstow MP), the stalls, donations offered for photographs of the princesses from Disney's 'Frozen', and a collection organised by John Fraser Jenkins of Cheam.
– All of this was the result of organising Cheam Village's traditional Late Night Shopping Evening on the first Friday of December.
– 2013 had been the first year raising charity money at the event, and 2014 saw a doubling of the donation to the local hospice.
– The event could not have been staged without enormous assistance and sponsorship from the likes of Smith & Byford whose generous donation again enabled the enlivening attendance of Radio Jackie, Hire Service Shops for providing barriers, much goodwill from both local Ward Councillors Mary Burstow and Graham Whitham and the Area Committee, and the guidance and assistance from other Council officers.
– Fantastic help was also provided on the night by volunteer marshalls from the community, and local scouts.
– Great supporting programmes of events were staged by Cheam Library, Whitehall and Cheam Baptist Church.
– The local police team helped with the crowd control, and estimated attendance at the event to be around 3,000.
– The Committee of Cheam Chamber of Trade is keen to keep this event alive in the future, and is even considering a mid-summer event in early July, but always needs volunteers to help.
– Many of the shops, traders and charity shops saw a substantial boost to their takings on the day, and many others will benefit in the future from the exposure and goodwill that Cheam derives from the event.